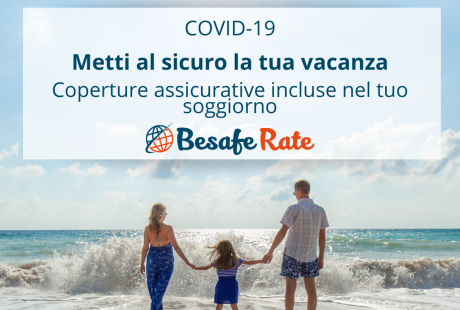 Only by booking directly with us on our site, with an additional cost of 25€, you can activate BeSafe Rate insurance that protects you and your loved ones from unforeseen events by guaranteeing refund from a minimum of 85% up to 100% in case of cancellation and assistance during your stay for all the reasons provided for in the Insurance coverage policy.
The insurance coverage included is valid for all participants in the stay from the time of booking to the check-out.
The full amount paid will be insured, whether it be a deposit, or the balance of the entire stay.
The rate is special for travels with peace of mind, with an added value for you and your loved ones!
UNFORSEEN EVENTS
 Among the unexpected events for the cancellation and refund of the trip there are:
illness
injury
hospitalization
natural disasters
Professional impediments (cancellation or changes to holidays, redundancy, new hiring)
COVID-19 / Pandemic / Quarantine (read below).
Other than the cancellation insurance, from the day of check-in to the day of check-out, the following guarantees are included:
healthcare during your stay
luggage coverage
theft
refund of the stay in case of early departure due to real problems
roadside assistance
For the insurance coverage policy: click here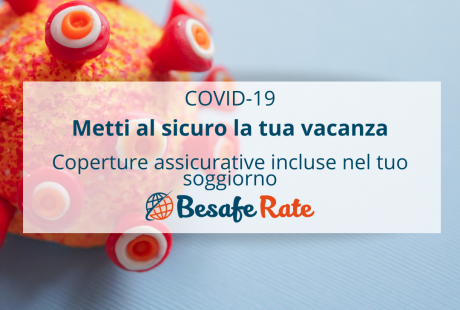 COVID
With reference to the cancellation for Covid-19, the cases valid for the request for refund of the prepaid amount are as follows:
e) a pandemic that affects the Insured, one of his Relative (as defined in the glossary) or a Travelling Companion (as defined in the glossary);
f) quarantine which involves the fiduciary or supervised isolation of the Insured or a Travelling Companion (as defined in the glossary).
N.B. in the event of a lockdown (concerning the area of the accommodation facility and/or the impossibility of the guest to leave their city/region/country, etc.), being a category of state of emergency dictated by the government, these cases fall between exclusions due to "force majeure". It is therefore not possible to obtain refunds by submitting a request with these reasons to the partner insurance company.
However, it is still possible to change the dates of your stay without losing any insurance coverage.
HOW TO BOOK
During the booking phase, after selecting the dates and choosing the apartment, remember to add to the Services the travel insurance of BeSafe Rate for only 25€.
At the end of the booking you will receive an automatic confirmation email with a summary of the costs and the amount to be paid (deposit or total balance).
The Besafe Rate travel insurance will be activated only after we have received the amount agreed at the time of booking.
You will also receive an email confirmation from the Besafe Rate with the details of the insurance subscribed and the link where you can add all the components of your trip.